Morphun has four main modes:


Morph The mode I started with is the morph mode. As a historical reference, Morph mode is sort of like the Tracking Generator found on an Oberheim Xpander, and sort of like the breakpoint generator on the 256e/257e. In this mode, a control voltage coming into the morph jack scans across the values on the sliders, interpolating between slider values as it goes. This lets you sculpt / reshape a control voltage into many curious shapes.

The Morph input range of 0-10 v. is scaled across however many stages of the Morphun are enabled, so the breakpoints are evenly spaced across the 0-10 v. range. I tend to think of it as a table with fixed X positions (based on number of enabled stages), variable Y positions, and the morph interpolating across it. If the Morphun is set for only two positions, the two sliders are like the knobs on either side of the 256e display, setting scale / inversion. If the Morphun length is set for three positions, it's like a 256e section with a breakpoint fixed in the middle of the X range.

Snap Then I added snap mode, which snaps between the values on the sliders. A full-scale ramp at the morph input will act as a sort of sequencer, stepping through the eight values on the slider. For example, if you drive the Morphun from an LFO with an ascending sawtooth wave, the sliders will be output in order, if from a descending saw the sliders will be output in reverse order. If you drive it with a Source of Uncertainty Quantized Random section set to 8 steps, the Morphun will randomly select among the eight sliders to output.

Clock I figured "in for a penny, in for a pound" so I added a strobe and clock mode. Clock mode is more or less a normal sequencer. Pulses into the clock input select the next stage, and reset starts at one again.

Strobe Strobe mode is sort of a cross between morph and clock, the value at the morph input is sampled every clock, then the interpolated value is looked up on the sliders.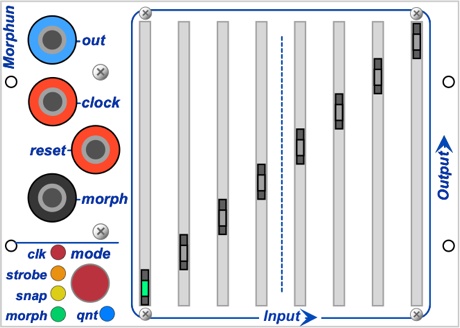 The sliders have LEDs in the handles to let you see where you are. With the sliders set like this, the output is the same as the input.

The number of stages can be set in a similar way as is done on the Source Selector.

This is my first double-height ModuleModule module.